Northern Timber Crafters helps every home be extraordinary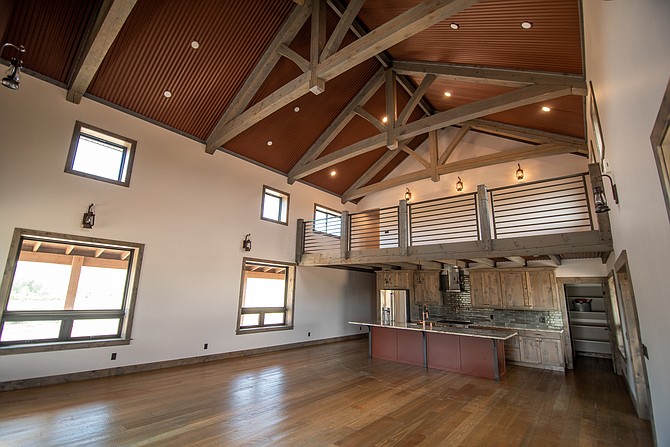 PONDERAY — Every home should be extraordinary.
At Northern Timber Crafters, the goal is as simple as that.
The company began as a timber mill over a decade ago in Montana. However, four years ago, the company stepped away from running the mill and moved its timber framing operations to Ponderay. In 2021, Northern Timber Crafters was purchased by Joey Copper.
The company, owned by Copper and his wife, Alicia, provides custom timber features for homes. Northern Timber Crafters works side by side with general contractors, engineers, architects, and homeowners to add special touches to homes, and can offer everything from design to manufacturing.
"In the past, people would think of timber framing as building a completely wooden home or structure," Joey Copper, owner of Northern Timber Crafters, said. "They visualize homes that have wood inside and out, up and down."
The reality is that modern timber framers are open to changing the archetype and are constantly finding new ways to do things.
In today's modern timber framing, almost every home is a "hybrid home," where some of the structure is a typical stick frame construction and some is timber framed. That allows timber features to be showcased in highly visible areas such as a porch, living room, or kitchen and take a more budget-friendly approach in other areas such as bedrooms.
"This hybrid approach allows homeowners to maximize their home with modern building materials and techniques while still experiencing the natural beauty of wood," Copper said.
While some might think timber framing is an old-world industry, Copper said there has been a tremendous amount of innovation over the last decade. In the past, timber-framed buildings limited builders based on span and load. That's not the case any more.
"With technological advances such as hidden metal connectors and laminated beams and panels, architects can now dream up wooden structures that could never have been built in past generations," Copper said. "Modern building code now allows for timber structures up to 18 stories tall."
Other innovations in the industry include CNC machines, CAD programs, and specialized saws and woodworking tools. Northern Timber Crafters takes advantage of all to carefully craft timber features that help their customers' homes stand out, Copper said.
While they have mastered the age-old techniques associated with timber framing, Copper said they are open to new ideas to help it evolve. As an example, he notes that the company can manufacture a truss with only traditional joinery visible while hiding metal components inside the timbers. The bottom line is that customers get a beautiful-looking truss that meets structural requirements.
Northern Timber Crafters is a member of the National Timber Framers Guild, an association dedicated to the craft of timber framing. Copper is also always reading, researching and expanding his knowledge to be prepared for the next project.
He's been an entrepreneur since he was a kid. In fact, he sold his first creations at local craft fairs. He's worked in cabinet and furniture shops as well as in corporate finance, real estate and construction.
Owning and managing Northern Timber Crafters is a perfect blend of his past experiences, Copper said. His wife, Alicia, brings corporate accounting and CPA experience to the business.
"I believe that work requires equal parts giddy and grind and I am motivated by the mantra 'nothing well done is insignificant,'" Copper said.
While Northern Timber Crafters has customers all over the United States, allowing them to be a part of "truly extraordinary projects, they love being part of projects close to home as well. Among their local projects are timber features at the new Springhill Suites hotel on U.S. 95, including porte cochere driveway entrance and the large soffit braces; and custom trusses and beams for a pair of homes at The Idaho Club.
"Homeowners who partner with us have an extraordinary home that they love and are excited to share with others," Copper said. "The best way to get to know us is to view the hundreds of photos on our website for inspiration and then reach out to us to discuss your project."
Information: northerntimbercrafters.com