Hecla COO Radford retires with silver in his veins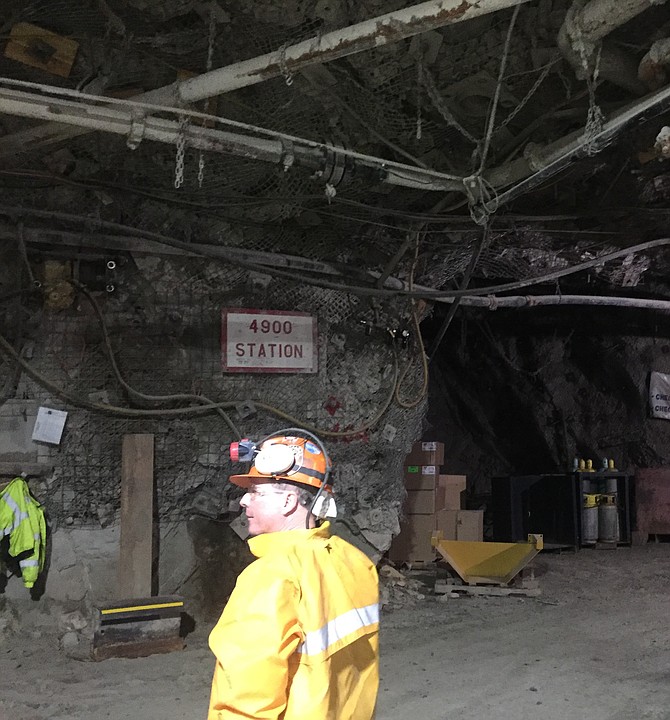 Bunker Hill miners could always tell where Norman Radford had been in the stopes. He smoked cherry flavored tobacco in his pipe and it permeated the humidity of the hard rock mine like lead dust.
"My father knew when he was 10 years old that he wanted to be a geologist," Larry Radford said. "I always loved his clarity. He always knew what he wanted to do."
When Bunker Hill closed in 1982, Norman's mining career closed, too. His son's was just beginning.
This month, Larry retired as Senior Vice President and Chief Operating Officer at Coeur d'Alene-based Hecla Mining Company. His career spanned 40 years. For the last eight he oversaw production in Hecla's mining operations in the Silver Valley's Lucky Friday mine, southeast Alaska's Green's Creek, Quebec's Casa Berardi, Mexico's San Sebastian, and several mines in Nevada.
"I put myself through college as a miner," Larry said.
He spent summers working alongside his dad and then took classes and wrestled at North Idaho College for two years. He dreamed about becoming a physics teacher. But mining had worked its way into his character.
"It just grabbed onto me," Larry said.
He enrolled in the University of Idaho engineering program and later completed his MBA at the University of Alaska-Fairbanks. He worked as a mine planner, an operations supervisor, and eventually shifted to upper management.
Like most miners in management positions, he lived and worked in mines around the world, from Russia to Chile.
"I worked in the Andes mining gold at 15,000 feet, at the southern end of the Atacama Desert," Larry said. "It was beautiful."
He tried to leave the mines he managed better than when he found them.
Meanwhile, Norman kept studying rocks. He opened Silver Capital Arts in an old Victorian building in downtown Wallace, selling minerals from his collection, among other mementos to tourists.
"Dad became chatty," Larry said.
Larry realized then how kind his father was, the way people do when they grow up and begin to see their parents as real people.
Mining eventually brought Larry back to Idaho. As the Hecla COO, he was responsible for the safe, environmentally sound and profitable operations of the company's mines, including the Silver Valley's Lucky Friday.
"I'm just the son of a geologist, not a geologist," Larry said.
Lucky Friday was his favorite mine to visit as a Hecla employee because he could stop at his dad's home in Wallace on the way back to Coeur d'Alene and have a cup of coffee and listen to his dad's stories.
"I was the kid who couldn't sit straight," he said. "I was always moving around the world."
The first time Larry went underground to work in 1979, he knew he had his father's affinity for rocks. He would spend his career learning geological history and how to extract mineral-rich ore from the ground. This knowledge allowed him to travel the world.
Larry spent his last weeks working for Hecla in the same place he started his mining career: several thousand feet under ground in one of the Silver Valley's hard rock mines.
He helped Scott Hogamier and Jason Chambers install bolts in 16 stope in Lucky Friday.
"He did a good job," Hogamier said, pausing. "He didn't forget where he came from."