The gateway to North Idaho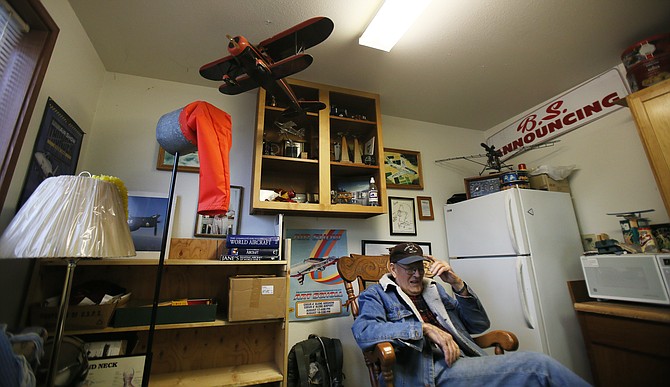 Large corporate jets and private aircraft frequently fly into the Coeur d'Alene Airport, bringing with them millions of dollars that are used in personal and business transactions in North Idaho.
"The big money doesn't come in on a Greyhound Bus," hangar 16 A owner Gene Soper said during a tour of his S&S hangar on a rainy Jan. 12. "That's why we need a big airport, because it doesn't serve just Coeur d'Alene."
Soper, 91, is an accomplished pilot and heavy duty diesel mechanic who began flying in 1946 when he was just 16. He built his hangar at the Coeur d'Alene Airport in 1990 and has seen the airport evolve through the years.
About a decade ago, he photographed the tarmac each morning to have an idea of what kind of planes were coming in.
"A million dollars apiece for those airplanes, and they're not staying at Motel 6," he said. "They're downtown at The Resort."
That trend has continued as North Idaho's popularity and population continue to trend upward. Airport usage has also increased, for business, recreational aviation and those who are just visiting.
"Since I've been at the airport, I've really noticed the airport change in how busy it's getting, especially in the summer months," said Greg Gfeller, who has been a tenant of the airport since 1996 and has owned a hangar since 2004.
Some vacationers are fractional jet owners, he said, and others have the resources to have their own jets and stay as long as they want. Hundreds of millions of dollars in executive, personal and luxury jets have been seen: 12-seat Citations, six-seat Eclipses, Gulf Streams, Hawker Jets, Phenom Jets.
"As far as the airport goes, I think it really is the crown gem of airports in Idaho," Gfeller said.
Gfeller, who is a member of the airport advisory board, said the Coeur d'Alene Airport is an economic generator for North Idaho. It contributes to employment through fixed-base operators (FBOs), mechanic work and airplanes for hire as well as training through the two flight schools on site.
"The airport has a massive economic impact on not only Coeur d'Alene but on North Idaho in general," StanCraft Jet Center president and co-owner Robb Bloem said.
Bloem said StanCraft Jet Center's pursuit over the next few years is to really get the counties to realize how vital a role the airport plays in the local economy. Not that they don't realize it, he said, but they need to be made more aware.
"People think of it as more of a playground," he said. "They don't realize how many people work out there and the jobs that are there."
StanCraft Jet Center, an FBO that provides fuel, ramps, hangars, concierge services and more, has been seeing an increase in high profile guests, especially since the onset of COVID.
"People are starting to figure out where we are in North Idaho," Bloem said. "A lot of those people happen to have the ability to fly private. We are seeing traffic at the airport increase dramatically."
He wouldn't drop any names, but said those who have been rumored to travel to North Idaho are making their way here through Gozzer Ranch Golf and Lake Club, Black Rock and more.
"They're getting to the point of rolling in and out of here. There are a lot of folks, whether they're famous or not, they're high net worth — CEOs of famous communities, famous people, singers," he said. "A lot of that has to do with Gozzer Ranch and to have your own private Idaho and build for much less expensive than wherever they're from.
"The beauty of these folks is they build multi-million-dollar homes, which keeps our folks swinging hammers," he continued. "They create so much revenue, but they don't impact our infrastructure. It's a really good way of creating revenue for North Idaho."
Bloem said StanCraft has invested nearly $15 million into the airport, starting with its 65,000-foot facility that employs hundreds of construction workers and continuing with the addition of a 30,000-foot hangar this spring and more expansions to come.
"There needs to be some investment in that airport. It's been out there since the '40s," Bloem said. "There's a real need. We are one of the busiest airports in Idaho and in all of the Northwest, with how many flight operations occur on a daily and monthly basis."